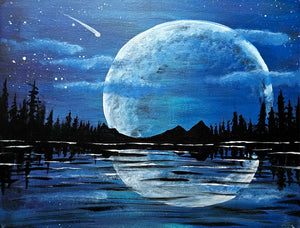 Join me in West Kelowna!
Admission for one adult  (19+) to join me for a relaxing creative paint experience. Suited for for beginner to intermediate painters. Everything is provided for you to enjoy this event except 420 products.  For legal reasons i have changed this to a "bring your own", i have adjust ticket prices to reflect this.  So feel free to bring some smoke! There will be a couple door prizes as well for a couple lucky participants. 
Address: 3282 Malbec Crescent, West Kelowna
Start time: 7:00pm The painting begins, get there around 6:45 to have a puff before we get started!
Finish time: Between 9:30 and 10
I will need to see a digital receipt for your ticket in order to participate.
Please do not park on the driveway. Park on the street on the left side of the house and enter through the lower gated patio (I will have a sign to make sure its clearly marked).
Please make sure you include your email when you pay as I will send out a detailed email the day before to make sure you have all time and location information!
Any Further Questions email snowandswirlartistry@gmail.com